Marine Biologists!
GET TO KNOW THE PURE ADVENTURE CREW
Carlos, Yolanda and Javier
What sets us apart from the competition is the enthusiasm and professionalism of our tour guides. They all share an intense love, admiration and respect for the natural beauty of Puerto Rico's coastal environments and the surrounding seas. In addition to being close friends, each Pure Adventure guide brings a unique personality and perspective towards introducing their lovely Island to visitors.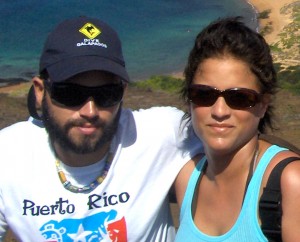 Carlos – A Marine Biologist, a Diver Instructor; the driving force behind Pure Adventure. Carlos travels the world seeking eco-adventures, coming back home to Puerto Rico and applying his experience and gained knowledge to Pure Adventure's excursions. His goal is to make sure that all Pure Adventure guests enjoy the best of Puerto Rico's natural resources in safe and professionally guided tours.
Yolanda – A Marine Biologist; the driving force behind Carlos! She is Pure Adventure's conscience. Yolanda's priority is protecting the fragile eco-environments of Puerto Rico. All Pure Adventure excursions are designed to have minimal impact on the areas visited. Yolanda believes it is vital that the Puerto Rican community gets engaged and educated about preservation of the Island's ecosystems. On any given day, she can be found in a classroom, teaching the youth of Puerto Rico the importance of protecting the Island's natural resources.
Javier – A Marine Biologist; Javier also shares the pride and enthusiasm of the PA "Crew" towards Puerto Rico's aquatic wonders. As a practicing Marine Biologist, he continues to participate in recent research and study programs relating to environmental issues. If he's not on the water or in a classroom, you can find him on the dance floor!

Nowadays it's fashionable to paint yourself green and call yourself an Eco-minded business. Most of these companies are just following trends.
Pure Adventure is founded, owned and operated by Marine Biologists. No one can better appreciate the environmental impact that nature excursions can have on delicate, tropical eco-systems than Yolanda, Carlos and Javier.
As Marine Biologists they know and understand the constant battle of marine sea life and flora to survive in today's world. There's a reason why they are Marine Biologists – it's very simple…they are children of nature. They share a deep appreciation and respect for their Island's natural treasures. They have created their eco-excursion company, Pure Adventure mindful of the care needed in order to share their tropical paradise with adventurous visitors.
The word "Eco" is short for ecology, i.e. the science of studying the earth and the environment…it's what Marine Biologists do.

Beach Clean-Up
Pure Adventure is always protecting the environment, everywhere we go. Whether it be a scheduled excursion with guests or when we're diving and kayaking for fun with friends, we always bring bags and pick up trash when we find it. Additionally, we coordinate and help sponsor beach clean-ups in conjunction with the Puerto Rico Department of Natural Resources and members of the National Oceanic and Atmospheric Administration.
Sea Life Protection
We are constantly vigilant and on the lookout for manmade hazards to sea life: 
Fishing lines and Fishnets (along with other debris) can cause suffocation of different marine species. When we find lost fishing gear, we remove and dispose of it on land.
Reef Restoration – Pure Adventure has participated with the Coral Reef Alliance, an international organization working exclusively to unite communities to protect our planet's coral reefs. Recently the Pure Adventure crew joined SAM (Sociedad Ambiente Marino) with local scientists, university teachers and students in creating a Staghorn Coral farm. The Staghorn coral (Acropora cervicornis), is an important reef building coral that provides shelter and refuge to numerous fish and crustaceans.
Spreading the ECO word – Pure Adventure offers field trips to clubs, school, college & teachers, helping them to understand, and getting them involved, with our ecosystems.
At the same time Carlos, as a representative of Pure Adventure, has taken part in conventions, presenting the challenges facing today's businesses regarding environmental preservation and conservation issues.