SNORKEL AND BEACH TOUR TO VIEQUES ISLAND, PUERTO RICO
Everyone's favorite destination for snorkeling in Puerto Rico is the island of Vieques with its crystal clear waters, colorful reefs, stunning marine life, and secluded beaches.
21 miles long by 8 miles wide, this beautiful Island is only accessible by boat. Limited visitors means that the reefs are unspoiled, the beaches are pristine, and the marine life is among the best that Puerto Rico offers.
Vieques Island Beach & Snorkeling Tour Details:
Rates per person: Adults $90.00, Children (6 to 12 years old) $80.00 (plus taxes)

Skill Level: Fun for the entire family

Tour Duration: 4 hours approx.

Check-in time: 12:45 pm at Pure Adventure's Dive Center

Tour launch time: 1:30 pm and returns at 5:30 pm approx. to the Roosevelt Roads Marina, just minutes away from the Fajardo area.

Recommended: Bring Sunblock and Towels
Vieques Island Has a Rich History:
For more than half a century, Vieques Island and the surrounding waters were off-limits to the public due to an active naval military presence. Today, this gorgeous area is under the guidance and protection of the US Fish & Wildlife Service, meaning that access is limited and marine life is protected.
Vieques Island is the best place for snorkeling and diving in Puerto Rico—you don't want to miss this!

What To Expect On Your Vieques Island Beach & Snorkel Tour
We promise you'll soak up every minute of your experience on Vieques Island, including:
Safety First
We start every excursion with a comprehensive Safety 101 session and briefing that covers the basics of safety in the water and while snorkeling. Our guides are CPR-certified and trained in Rescue Management techniques, so you know you're in good hands.
Once you feel comfortable with your gear and are ready to snorkel, one of our guides will take you to the diverse part of the reef and point out all the sea life. Of course high quality snorkeling gear and flotation devices are included on this remarkable beach & snorkel trip!

Incomparable Snorkeling Experience
Due to Pure Adventure's proximity to the beautiful Vieques Island, it's a quick 20-minute ride aboard our custom dive and snorkel boat affectionately called "Fish Tank". Our adventurers can snorkel with sea turtles, rays, tropical fish, and even manatees that venture into the reefs and beaches of Vieques.
Enjoy an incomparable snorkeling experience and connect with nature on a deeper level with our Marine Biologist tour guides. Your guide—we are the only tour operator with professional snorkeling guides in the water—will help you to identify the corals and diverse marine life, and advise you on where to snorkel in order to see the widest variety of sea life!

Stunning Beaches
After a brisk, exciting snorkeling session get ready for a relaxing time on the beach where you will experience one of the beaches that Vieques is famous for! As you relax on a pristine, sandy beach, the view to the West is dominated by the mountains of the Rain Forest "El Yunque" rising up from the eastern coast of Puerto Rico.  Meanwhile the Captain and crew will be serving a variety of local delights and treats all for your enjoyment!
Since there aren't any rivers that carry silt into the waters of Vieques Island, its waters are crystal clear throughout the year. No matter if you're planning a solo trip or a family vacation, it's always a great time to visit Vieques and make fabulous memories.
This grand Vieques Island tour concludes with a smooth boat ride back to our home base: the Marina of the Roosevelt Roads. Everyone on board will be sharing their stories about how awesome both the snorkeling and beach tour was, making this tour the highlight of your vacation in Puerto Rico!

Vieques Island Beach & Snorkel Tour Includes:
All quality snorkeling equipment (mask & snorkel, fins & flotation devices)

Snorkel instructions & orientation for beginners by Professional Snorkeling Guide

Ecological interpretation about the surroundings, marine life and history of Vieques

USCG license Captain, professional snorkel guide and a Certified Interpretive Marine Biologist among the crew.

Local in-season fruits, snacks, water & soft drinks

Recommended: Bring Sunblock and Towels

SCUBA Dive at Vieques Island Too!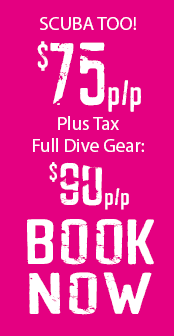 This trip is perfect for mixed groups interested in both diving and snorkeling. If there's a certified diver in your party, we can easily arrange a cool, 1-tank dive, while everyone else is snorkeling, paddleboarding, or catching some rays on the beach.
Rate per diver $75, including tank & weight

Gear rental: $15

Diver must be certified
Our professional crew will be taking care of you on the excursion, a USCG license Captain and professional snorkel guide will be taking complimentary pictures of your Wonderful Day with Pure Adventure on Puerto Rico.
Our professional crew will be taking care of you on the excursion, a USCG license Captain and professional snorkel guide will be taking complementary pictures of your Wonderful Day with Pure Adventure on Puerto Rico.)
If you're driving in:
Drive Time: 1 hr 45 minutes from Metro San Juan to Ceiba, Roosevelt Roads Marina (Click here for Driving Map)
Drive Time: 45 minutes from Humacao to Ceiba, Roosevelt Roads Marina (Click here for Driving Map)
Drive Time: 30 minutes from Fajardo to Ceiba, Roosevelt Roads Marina (Click here for Driving Map)