EDUCATIONAL FIELD TRIPS
Designed to cultivate respect and foment awareness of our delicate marine ecological systems among Puerto Rico's younger generations, Pure Adventure Corp. announces a Field Trip program for all learning institutions. We call it our "Sal pa' fuera" program.
Now students and their teachers have an opportunity to learn first-hand, the importance of conservation and responsible stewardship of the natural resources of our Island. There is no better way to teach these concepts than taking your students to the actual ecosystems! They will discover a natural beauty that many of our youths never get a chance to experience.
Pure Adventure is owned and operated by two fully trained and graduated Marine Biologists. Either Yolanda, Carlos or Javier will conduct interpretative walks, ecological discussions and biological orientation of all the marine life that is observed…in an exciting eco-excursion that includes kayaking, snorkeling and beach exploration. Not only will your students learn the importance of preserving Puerto Rico's unique ecosystems, they will have fun in the process!
Among the field trips we offer: Our Wild life Adventure, Bio Bay Laguna Grande Adventure, Reef Garden Adventure, 3 in 1 Adventure and "La Piedra del Indio" Adventure (Indian Rock – See Below) includes kayaking through mangroves and lagoons, coastal exploration, kayaking coastal inlets, snorkeling, visiting bioluminescent waters and more.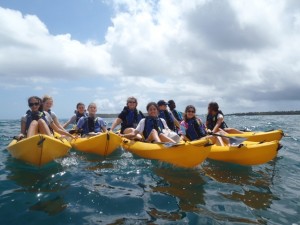 The field trip and the visited ecosystems will vary depending on the ages, group size, purpose and the topic of the trip. Every excursion includes: all equipment, water, orientation, and interpretative journey by Marine Biologists. Among the most visited environments and ecosystems are:
Sandy beach
Coastal forest and dunes
Seagrass beds
Lagoons and mangroves
Coral reefs
Rocky shore
Bio Bay
In most trips we visit more than two ecosystems. The time will vary from one (1) hour to five (5) hours.
For more information, please contact us.
Piedra del Indio (Indian Rock)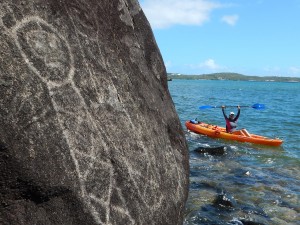 Located on the old Navy Base, Roosevelt Roads, in the township of Ceiba on Puerto Rico's eastern coast stands an outcropping of giant granite boulders, seemingly dropped from the sky. This magical site is where an ancient tribe of Taino Indians carved mysterious petroglyph figures onto the stones facing towards the Island of Vieques and the rising sun.
Pure Adventure offers kayaking and snorkeling educational tours to this pre Columbian archaeological site (accessible only by water) as well as to nearby beaches, lagoons and Mangrove wetlands.
For more information, please contact us.