BIO BAY ADVENTURE TOUR LAGUNA GRANDE
Awesome Night time Bioluminescent, Bio Bay Kayaking Tours at the "Laguna Grande" in Fajardo, Puerto Rico!
Prepare yourself for an experience of a lifetime! Your eyes won't believe what they are seeing; you will wonder… Is it magic? A hallucination? Hollywood special effects? Then you realize that these are truly enchanted waters of Puerto Rico!
QUICK BIO BAY TOUR DETAILS
 Each Bio Bay tour is guided by a certified interpretive Marine Biologist trained in First Aid & CPR
 Skill Level: For Everyone (kids 6 years and up)
 Duration: 2 hours (Weather permitting)
 Meeting time: 30 mins before the starting time of your tour. It is crucial that all guest arrive 30 mins before the start time of the tour. We respectfully will not accept or wait for any guest after this time. No exceptions!
 The 'Lesson 101' before the trip, safety orientation are a very important part of this tour and are mandatory. Any guest that miss this very important part of the tour, will not be able to attend and as stated in your confirmation there is no refund or rescheduling. No exceptions!
 This is a 2-person kayak tour. Max weight per person is 220 pounds. Guests will be weighed on site. All guests must be able to get in and out of their own kayak and must be able to row without any assistance.
 Launch Site: Las Croabas, Fajardo, Puerto Rico
 Trip rate: $58* per person plus tax *Rates include $3 DNR fee
 Bio bay trip includes: All required safety equipment, specialized equipment (2 person kayak etc.), professional field guides, water & snacks, bug repellent, kayak "Lesson 101" before the trip, safety orientation, and most of all…a lot of fun!
 You will get very wet, we recommend bringing extra clothes for after the tour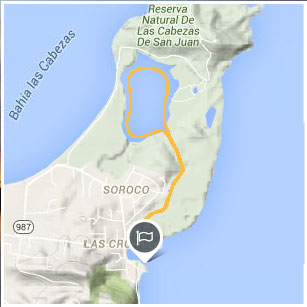 If you're driving in:
Drive Time: 1 hour 20 minutes from Metro San Juan to Fajardo Bio Bay (Click here for Driving Map)
Drive Time: 40 minutes from Humacao, Palmas Del Mar to Fajardo Bio Bay (Click here for Driving Map)
For groups of 8 adventurers and more a deposit will be required.
For more information regarding physical restrictions click here.
Come with PURE ADVENTURE, the only company that features a Marine Biologist as your field guide. We will explain all the processes involved and the unique conditions required for this supernatural phenomena to occur. Your Marine Biologist will also explain how this delicate ecosystem maintains a pure balance and what must be done to preserve and protect the Bio Bay "Laguna Grande"…a very special place on Planet Earth!

There are only four (Bio bay) bioluminescent bays and one lagoon in existence on Earth! Very few people, even Puerto Ricans, are aware of our little known, bioluminescent lagoon. Pure Adventure provides a unique opportunity to visit and actually kayak in the "Bio-Lagoon" known as "Laguna Grande". This lagoon is the best place to appreciate this phenomenon, being a closed environment, allowing the microorganisms to flourish in bigger concentrations! This glowing effect can be appreciated at any given night.
The Bio Bay Adventure tour is one of Puerto Rico's most popular. There are four things that our guests need to take in consideration:
1) In order to best appreciate the bioluminescent phenomena our tours run at sunset and early evening and it can get quite dark in the mangrove canal. So, if you are afraid of darkness, a first time kayaker, or have small kids we strongly suggest taking the earlier, sunset trip. This way you can see where you are going, get use to the environment and sharpen your kayaking skills.
2) Due to the immense popularity the Bio Bay tour, at times can get crowded. It's not uncommon to meet up with other tour groups waiting to access the canal leading to the lagoon. There can be bumping other kayaks along the way. When crowded conditions warrant, Pure Adventure will provide extra guides for your safety.
3) Please keep in mind that this tour takes place in a natural environment and that the bioluminescent phenomenon, although rare, can be seen year round. The intensity of brightness is unpredictable and can vary. Most important – the glow is always there! ENJOY THE SHOW!
4) For safety reason, children under 6 years old and pregnant women CAN'T participate on any of the kayaking excursions.pregnant women, kids under 6 years old or those who have epilepsy, back problems, heart conditions, dizziness, recent surgery or any other condition that may put life in risk are not allowed to participate in PURE ADVENTURE tour. Maximum weight per person is 220 pounds. Guests will be weighed on site. Please help us make this a pleasant experience for all. Prepare for a Pure Adventure!!!