LEARN TO SCUBA DIVE TOUR IN VIEQUES, PUERTO RICO
Experience the underwater world for the first time by SCUBA diving on a reef of tropical coral and colorful fish at safe depths from 15ft to 30ft. Before the dive, and as a safety requirement, there will be a brief introduction to the basic concepts and skills for diving. The lessons will be taught at the beach Vieques Island, Puerto Rico.
Once the diving instructor's lessons are finished Departing from the Roosevelt Roads Marina on the main island of Puerto Rico at 1:30pm to Vieques, the first stop will be a beautiful beach on Vieques were you will be taking your first dive lesson.
Our dive boat heads to the amazing reefs of Vieques Island, where you will have a memorable experience as a temporary diver for the first time! Once at Vieques, the SCUBA instructor will be escorting you during the dive on colorful coral reefs, while spotting and pointing out the marine life that inhabits this Caribbean, underwater sea world.
Our "Discover SCUBA Diving Tour" is designed to take you to stunning reefs, undersea walls, caves and grottoes. The actual dive spots may vary according to weather conditions and your dive master's confidence in the skill levels of the members of the dive party. We guarantee that any deviation from the original itinerary will not diminish in any way, the quality of the dive(s).


VIEQUES is an island surrounded by protective reefs, off the East coast of Puerto Rico, close to the town of Fajardo. It is the perfect place to take first-time divers not only for all the marine life (sea turtle, yellow tails, snappers, trumpet fish, sting rays, cow fish and a wild variety of crustaceans like lobsters and shrimps) that lives on the coral reef, but also for the safety and protection that the reef and the island bring to the divers – especially to first-time divers. Your first Dive is conducted at a safe range of 15ft to 30ft depths.
The Discover SCUBA Diving Tour Includes:
 Beach lessons with a certified SCUBA Dive Instructor
 Days of operation: Monday to Sunday
 Full diving gear
 Snacks and drinks
 Comfortable Dive Boat trip to Vieques Island
 Dive on a reef under supervision of a SCUBA Dive Instructor
 Photography documenting your first SCUBA Dive
 Field Guidebooks
Transportation available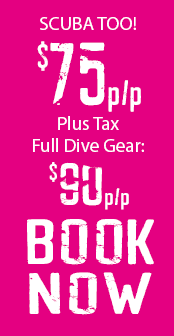 If there's a certified diver in your party, we can easily arrange a cool, 1-tank dive, while everyone else is learning the basics of SCUBA Diving. This is perfect opportunity for certified, experienced divers to share the excitement with friends new to diving and snorkeling.
 Rate per diver $75 includes tank & weight
 Gear rental: $15
 Diver must be certified
For private trips contact us!
IF YOU'RE DRIVING IN: