Hello fellow adventurer,
My name is Carlos and my wife and partner's name is Yolanda. We are two young Marine Biologists in love with our Island, Puerto Rico and we hope to share with you the natural beauty of its shores and surrounding waters. We have designed a series of aquatic eco-excursions so that visitors (and locals) to our "Isla del Encanto" can experience for themselves the incredible variety of animal and plant-life that these very special and fragile, tropical ecosystems support.
As our guest, you become a Pure Adventurer, because the beaches we visit, the lagoons that we kayak, the bioluminescent waters that we explore and the seas where we snorkel and dive are all pristine, relatively untouched environments. We know that you will be amazed and delighted by your adventure and that it is our hope that you take home with you a newfound conviction of how incredibly important it is that we protect our earth's natural resources so that our children and generations to come can enjoy and appreciate what we have today.
Te Esperamos.


Both founders of Pure Adventure share a combined experience of over 10 years in the eco-adventure industry and both have Bachelor degrees of Coastal Marine Biology at the University of Puerto Rico at Humacao. Carlos and Yolanda make every effort to personally guide each excursion.
Our Dive and Snorkel Center
Step out of the ordinary and into the extraordinary. Experience fun in the sun like never before with a variety of water sport activities that will leave you with a lifetime of incredible memories.
Located on the eastern coast of Puerto Rico in the Roosevelt Roads Marina, Pure Adventure's Dive Center offers a full line up of aquatic activities. The center has all the gear you need available for rent: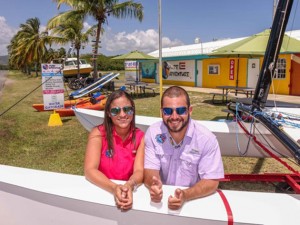 Bikes (helmets)
Kayaks (backrest, paddles & lifejacket)
Paddle Boards
Snorkel gear (mask, snorkel & fins)
Dive gear (tanks, BC, Regulator)
Other services:
SCUBA tank filling
Private Snorkel & SCUBA Dive Charters
Snorkel & Cruise Tours
SCUBA Diving Tours
Diving Classes
Kayak Trips
Dive & Snorkel Center operating hours
For Gear Rental:
9:30 am – 4:30 pm, Monday thru Saturday
Office Hours for Reservations:
9:00 am – 6:00 pm, Monday thru Saturday
Tel: (787) 202-6551
Our Fleet
Pure Adventure's Dive & Snorkel Center has a variety of vessels and water sport equipment for both renting and taking tours. Perfect for exploring the reefs and local wonders of Fajardo, Culebra, Vieques, and the former naval base, Roosevelt Roads.
"Fish Tank" (46' Dive & Snorkel Boat available for snorkel & dive tours and charter)
2015 Newton Boat 51' overall, custom made power boat, named Fish Tank, prepared with all amenities for the commercial tourist industry: platform, two dive ladders, observation deck, bathroom, fresh water, music, equipped with a pair of 405 HP Cumming and all safety equipment required by the USCG.
"Ballyhoo"
2018 Twin Vee Catamaran 36' center console, named Ballyhoo, prepared with all amenities for the commercial tourist industry: platform, one dive ladder, live well, fresh water, music, equipped with a pair of 350 HP Suzuki and all safety equipment.
What makes us different?
YOUR GUIDE IS A MARINE BIOLOGIST
Our kayak, snorkel and dive excursions are different because, not only do our adventurers have fun, most of them are guided by a trained Marine Biologist devoted to educating and informing you by describing the ecosystems and identifying the animal and plant life that inhabit them.
To learn more about our outstanding crew click here
WE AVOID THE CROWDS
Pure Adventure means the purest of all adventures! Our Snorkeling, Kayaking and Diving venues are "off the beaten track". That's why when you explore with us, many times we are virtually alone in any given environment, whether it be a little known lagoon, a secluded, hidden beach or a secret dive spot.
Most of the Pure Adventure excursions are located on the eastern coast of Puerto Rico (between the Humacao and Fajardo municipalities).
LEARN OF PUERTO RICAN CULTURE
Our guests will also learn about the history and culture of Puerto Rico. Your guides will describe the blend of ethnic cultures that have inhabited Puerto Rico through the centuries. From the indigenous Taino tribes to the arrival of the Spanish conquistadors and the subsequent introduction to the Island of African slaves to work the cane fields in the 19th century. Our Island has a rich and varied past.
And in keeping with the Puerto Rican theme, Pure Adventure serves only authentic, healthy, local in-season fruits and delicacies. So, not only will you learn about our culture, we'll make sure that you savor it also!
SAFETY FIRST
Our team and equipment is first class. Every Pure Adventure guide is well trained in CPR/First Aid, Oxygen Administration and Rescue Management.
All Adventure Guides are equipped with a marine radio and first aid & CPR kit. In every kayak/snorkeling excursion each of the lead guides carry a rescue tube.
In every diving excursion, your Adventure Guide will always carry an oxygen administration kit. Before every excursion the Pure Adventure team consults the latest weather forecasts 24 hours before departure time.
The safety of our guests is our priority in every Adventure. There is ALWAYS a guide in the water, nearby, with you.
Rest assured, your Pure Adventure Guide is well trained:
Certified NAUI Diver Instructor (Carlos)
Certified NAUI CPR/First Aid Instructor (Carlos)
Certified NAUI Dive Master and Rescue Diver (Yolanda)
Certified Life Guard / Guide (Yolanda)
Certified in CPR and First AID (Yolanda & Javier)
Certified NAUI Dive Master (Javier)
Certified in National Cave Rescue Commission (NCRC) Level One (Carlos)
OUR EQUIPMENT
We believe that the gear does make the difference! For this reason we provide the best and safest gear from recognized brands. All equipment is periodically inspected and renewed. So you don't have to worry about a leaky mask!
Our kayaks are very seaworthy craft. Proven to be safe for those that have taken the time to learn the basic skills. Before each Kayaking excursion, your Pure Adventure guide will instruct our guests on the techniques of safe kayak handling.
All of our ocean kayak routes are conducted in protected waters where barrier reefs reduce wave action.
Lifejackets required while kayaking.
Every Pure Adventure guide carries a First Aid Kit.
Every Pure Adventure guide is equipped with a CPR mask and Rescue Device (Rescue Tube).
Before every excursion the Pure Adventure team consults the latest weather forecasts 24 hours before departure time.
WHY WE DO WHAT WE DO
Everyone in the Pure Adventure crew is devoted to and crazy about nature! In our thoughts, there is absolutely no better way to understanding the importance of the natural environments of our planet than to get out and experience the incredible plant and animal habitats in an intimate and personal way.  For this reason our crew strongly believes in what we're doing at Pure Adventure…that is introducing and showing our Adventure Guests the tropical, coastal paradise of Puerto Rico in a caring and eco-friendly way. Truly a green company (click here)
With us you get an up-close experience with the natural aquatic world that will fill you with amazement, providing memories for a lifetime!
THE PURE ADVENTURE MISSION

To know, that in every day, there is a new experience in nature to learn from.
To inter relate with our guests from different cultures from all around the world.
To strive to be as ECO friendly as possible because our Island and future generations depend on us.
To provide outstanding service to our valued, adventurous guests.
To motivate our guests to become stewards of conservation, to protect our earth's natural eco-systems wherever they may travel.
To further our studies and trainings to better understand the amazing natural, aquatic world and to pass along our knowledge to the youth of Puerto Rico.
To make a difference and give our best!
All images Copyright © 2008 Pure Adventure Corp. All rights reserved.