Snorkel & Cruise Charter
Introducing the ultimate island-hopping experience on a 36 ft state of the art catamaran tour!

Our boat trip offers a one-of-a-kind adventure on the beautiful islands of Vieques, Culebra or Fajardo's keys (famous for its Icacos, Cayo Diablo, Lobos, Palominitos & Palomino islands). You will have the opportunity to snorkel, chill at the beach, and explore the islands with a certified Marine Biologist and Captain.
One of the key features that sets our tour apart from others is the use of a state-of-the-art 36 ft catamaran. Unlike traditional charter boats, catamarans offer a more stable and comfortable ride, making them perfect for island hopping and exploring the beautiful waters of Vieques, Culebra & Fajardo's Keys.
Our catamaran tour is available only for small groups ranging from 1 to 6 guests. Some people call it private charter, other guest call it "off the beaten path tour", there are those that call it "the full & real experience", we refer to it as "Quality time!". This trip includes all food and drinks, making it a great value for those looking for a high-end experience. The Snorkel & Cruise Charter can be done on half and full days, giving you plenty of time to explore the island, and us enough time to customize your boat trip to your exact desire and tailor your vacation the way you like it.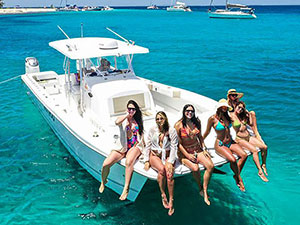 Featuring fresh and locally sourced ingredients, ensuring that you are enjoying only the best, our Snorkel & Cruise Charter is also a gourmet experience. Imagine savoring delicious and local cuisine while taking in stunning views of the islands.
Whether you prefer seafood, meats, or vegetarian options, we have something for everyone. The food is not just delicious, but also visually appealing, making it an experience to remember with the sea breeze and breath taken views of our beautiful landscape.
Between Vieques, Culebra & Fajardo's keys exist more than 100 small islands and inlets, beaches of every color, reefs of every depth full of marine life, and a beautiful scenery all the way around. This is where the Atlantic Ocean meet the Caribbean Sea!
Gift yourself the best there is and join us to your best day in the waters of Puerto Rico. Plan your day and we will make it possible or call us and let us now your needs so we can make it happen!
Your vessel name is Ballyhoo, a 36 ft Twin Vee catamaran equipped with::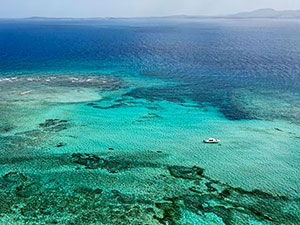 All safety equipment
USCG license Captain and Marine Biologist
2, 4 stroke Suzuki 350hp
Dive ladder
Fresh Water hose
2 life well
GPS, fish Finder& Depth founder ,Radar
Music stereo
Marine Head (porta poti)
Wash down water hose
Paddle board
Floating noodles
Snorkeling gear
Sports gear
Variety of alcoholic drinks
Water and sodas
Snacks and refreshments
Lunch (only full day tours)