Culebra vs. Vieques: Which Puerto Rican Island Should You Visit?
When visiting Puerto Rico, you'll want to visit some of the beautiful, smaller islands off its coast. They blend in with the archipelagos that make up some of the Virgin Islands and undoubtedly compare.
Puerto Rico's Islands
Puerto Rico, also known as the Island of Enchantment, is formed of three main islands: Puerto Rico – the mainland – Culebra, and Vieques. Then there are some smaller islands scattered throughout the area. You'll also want to see the other islands when you visit Puerto Rico.
Culebra Island
Originally called Isla Pasaje y San Ildefonso de la Culebra, Culebra is 27 miles off of the main island's coast. The island is most famous for its idyllic Flamenco Beach and its baby brother island, Culbrita.
Vieques Island
Vieques, a little further off the mainland coastline, is world famous for its bioluminescent bay and all the activities and attractions available to families and solo travelers alike. Vieques has something for everyone.
Visiting Culebra Island
You can get to Culebra by plane or ferry from the mainland. 
What to do on Culebra
Culebra is an excellent spot for snorkeling. Playa Tamarindo, Carlos Rosario, Punta Soldado, and Punta Melones are the most famous places for snorkeling. You can see sea turtles, sting rays, rainbows of tropical fish, starfish, octopus, and coral. Snorkel rentals are inexpensive, and you'll surely see some magnificent wildlife if you go on a tour. 
Culebra Island is a fantastic area to learn if you've always wanted to take a scuba diving course. With calm blue waters and consummate professional instructors, you'll be a diving pro in no time!
Culebra also has some excellent places to eat, although the hurricane destroyed some hotels and eateries. It's a great place to enjoy great food with breathtaking beach views.
Perks of visiting Culebra
Because Culebra has less family-friendly activities, it tends to be a little less frequented by tourists, so you're more likely to have the beach to yourself. More secluded beaches make it perfect for a romantic getaway from the mainland. 
Because there are fewer people, snorkeling and diving are a little nicer for spotting marine wildlife. The island has some small inns to spend the night, and you can basically have the beach to yourself to watch the sunset, plus beach camping is allowed. Culebra is also a little less pricey compared to the mainland or Vieques.
Culebra is the island for beach bumming and romance. It's also easy to get to for a quick day trip. But remember, if you want to camp, you can!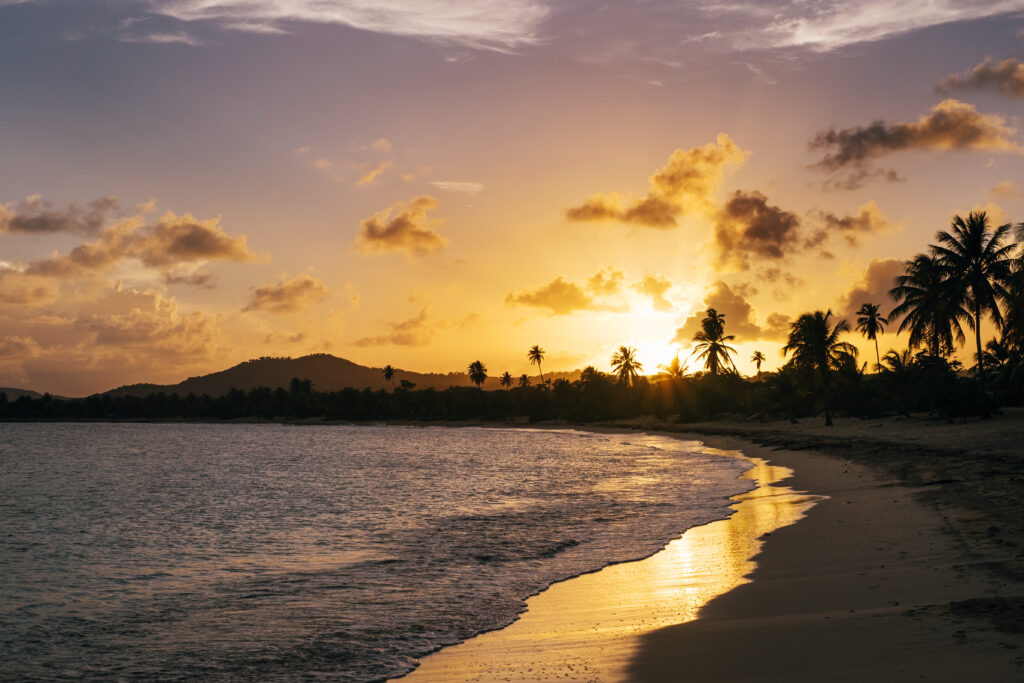 Visiting Vieques Island
Vieques island is also just 45 minutes by ferry or short plane ride from the mainland. There is also excellent public transportation on the island.
What to do on Vieques
Vieques offers activities for everyone. Snorkeling, scuba diving, surfing, hiking, horseback riding, shopping, and more. Some excellent tour operating companies can lead you to kayak through the famous bioluminescent Mosquito Bay, which is a must-do if you visit Vieques. 
Vieques doesn't sleep when the sun goes down, either. Enjoy the lively atmosphere and nightlife at night with live music in the bars and restaurants. And if you're into history, Vieques also offers sugarcane ruins, military bunkers left behind by the US Navy, and Hacienda Tamarindo.
Why choose to visit Vieques
Vieques is great for all kinds of activities and has options for entertaining young children. Vieques island is bigger. So it has more sleeping and dining options, including larger hotels to choose from, and more variety to choose from when you want to eat.
Vieques also has some island nightlife. If you're going with a group of friends, you'll have more fun and meet other travelers on Vieques than you would on Culebra. 
For animal lovers, Vieques is a great choice. You can see the wild horses that run around the island and numerous hiking trails in case you want to do some non-water-related activities. Vieques is a fantastic destination for family vacations.
Culebra vs. Vieques: The Verdict
Both Culebra and Vieques are beautiful destinations when you visit Puerto Rico. Choosing which one to see is tough if you have to choose just one. We think Vieques is great for family visits, and Culebra is better for solo travelers or couples. However, the choice is ultimately up to you.
Honestly, both are amazing and worth a visit!