Experience Nature in a Whole New Way with an Overnight Stay on Vieques Island
Now that you've set your heart on visiting Puerto Rico, it's time to decide how you will enjoy your time exploring the beautiful island and all it has to offer. With its Caribbean location, Puerto Rico's coastline is dotted with smaller islands that are definitely worth exploring. Vieques is an excellent option for spending a night off the mainland and getting deeper into Puerto Rican nature and culture.
Where is Vieques?
Vieques is a small island just off the eastern coast of Puerto Rico. While there are excellent day trips to the island, some of the most beautiful scenes and experiences on Vieques are only truly available at night. Here are some tips on how to get to Vieques, get around, and where to stay to get the most out of an excursion to Vieques island.
Getting to Vieques island
Getting to the island is the first step, and there are a few options! You can choose to go by air or by sea. The island is only about 10 miles off the coast of the mainland, so if you decide to fly, it will only take about 30 minutes. You'll take off from Puerto Rico's San Juan airport or Fajardo, an eastern coastal city. You can charter a private plane or take an air taxi that goes to Vieques regularly.
The other option is to take the ferry. This is the cheaper option! For just $2, you may not be the most comfortable, but you will get to the island. The ferry schedule depends on the weather, so timing may be an issue. The sea can also be a little turbulent sometimes, so if you tend to get seasick, prepare accordingly. 
Traveler Tip: You can't bring your rental car on the ferry! You'll have to leave it in storage!
Transportation on Vieques
That means you'll need to rent another vehicle on Vieques if you plan to truly explore. You'll need some mode of transportation to visit the most beautiful beaches since they tend to be more remotely located. But that is what lends to the charm of the island. You'll discover secret, unknown spots and be able to make them your own. Be sure to rent any vehicles well ahead of time because the supply is limited, especially during the high season. 
Hotels on Vieques island
The same goes for booking your hotel room. While Vieques is larger than Culebra, there is still limited space, and because the island is so beautiful at night, the hotels fill up quickly. Also, be aware that Hurricane Maria damaged many hotels, so there may be limited overall capacity as they continue to rebuild. 
The Blue Horizon Boutique Resort is one notable hotel to check out, which boasts beautiful seaside views. You can also check out the Vieques Guesthouse and the Casa de Tortuga Guesthouse. All of the Vieques island accommodations are relatively inexpensive for being in the United States, and they all have close proximity to the beach.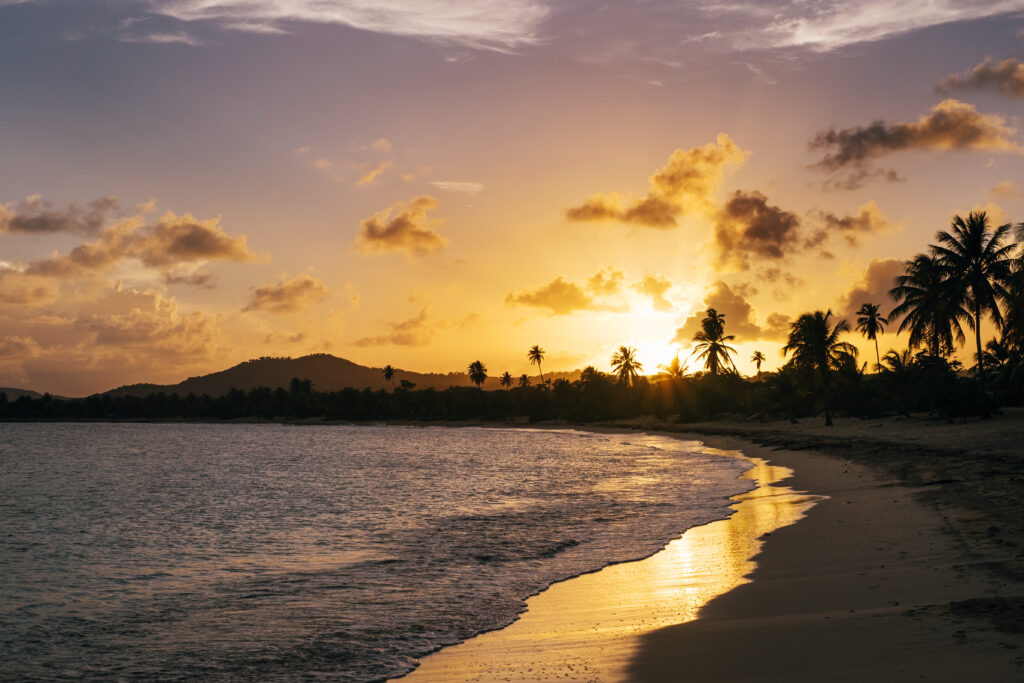 What to do on Vieques
Vieques will not leave you wanting activities! Whether you're on a romantic getaway or enjoying a family vacation with the kids, there is plenty to do on Vieques. 
Best Vieques beaches
When you stay in Vieques, go to the beaches! The island has beautiful, secluded spots and some more family-friendly beaches. The most popular beaches are Playa Esperanza and Sun Bay. Playa Esperanza is more popular with families because it is closer to places to eat and shop, while Sun Bay, just down the beach, is well known for its calm, slow-moving waters.
Visit the Bioluminescent Bay
If you stay the night, you'll experience Vieques' Mosquito Bay, famous for its glowing waters. You can do a kayak or snorkeling excursion to visit the bay at night and see how the seas glow due to the millions of single-celled organisms that glow when the waters move.
Snorkel with sea turtles
Another fun activity for the family is a snorkeling trip near the island. The marine wildlife is incredible, and you may get a peek at the local sea turtles, and if you're fortunate, you could even see a manatee!
Find the local wild horses
If you want to experience the inland on Vieques island, you could go in search of the wild horses that inhabit the island. While they are called "wild," they are quite friendly; they just happen to roam the island freely. They're not shy, and here's a tip: the horses love mangoes. When the fruit is in season, look for them where mango trees are.